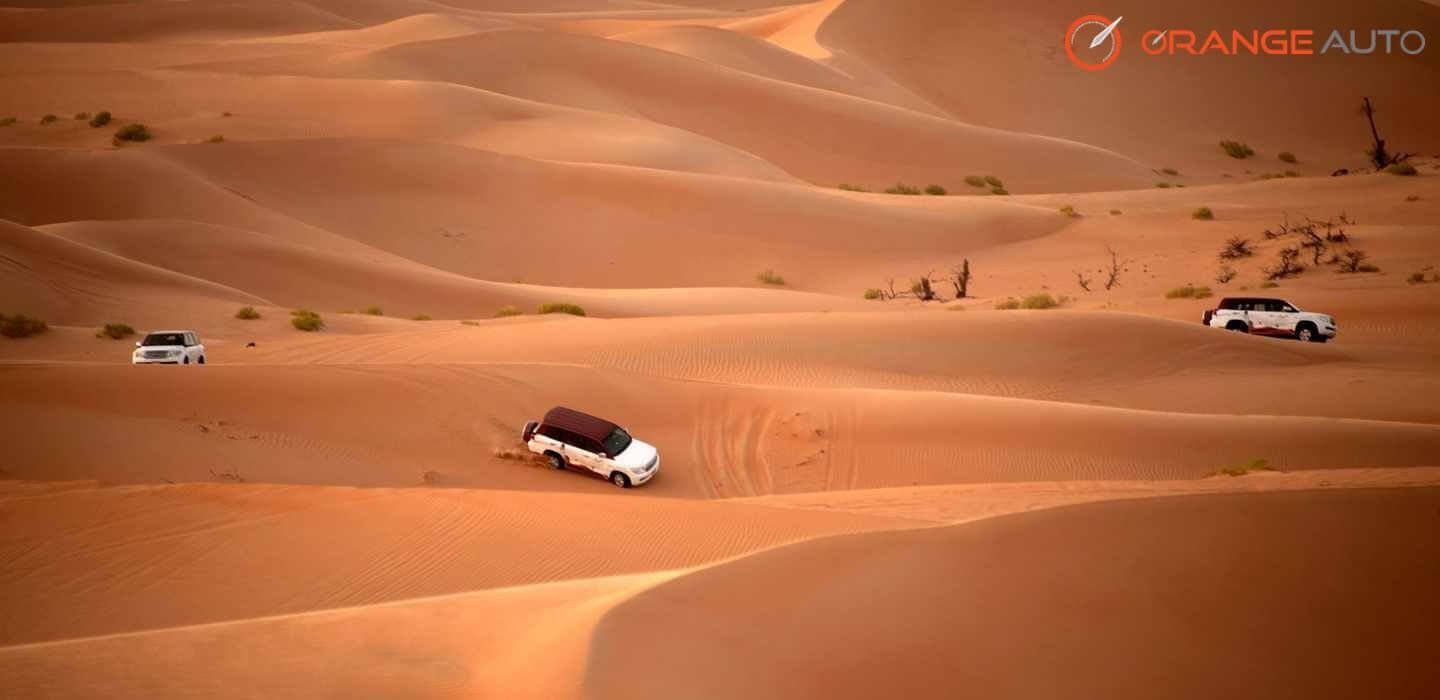 One experience no visitor to Dubai wants to miss is a desert safari. The desert dunes have their own charm and dunebashing is an unforgettable experience. Offroad journeys open up new vistas and can really make you fall in love with the panorama of colors and terrains that you experience. Going offroad is not without its dangers, though. Here are a few tips that you need to keep in mind if you want to have the best offroad experience in Dubai:
1. You should be aware that utility vehicles have higher chances of a rollover than other vehicles, so the first rule of thumb is to put safety first and to always ensure that you and your passengers are wearing seatbelts. Make sure you have survival gear if you get stuck and all the stuff inside is stowed away properly. In the case of an accident, even a small object can become a lethal missile if it is not tied down or packed properly.
2. Due to their low center of gravity, it is not advisable to take corners at high speeds in an SUV as this increases chances for a rollover. Don't let the spirit of adventure go to your head and indulge in a road race.
3. As part of your preparations for an offroad trip, make sure that your brakes are in the best possible condition by getting them checked at a reputable garage like Orange Auto in Al Quoz. Brakes can play a crucial role when it comes to your safety while driving in sand or mud.
4. Before you decide to take an offroad trip, make sure your tires are up to the task. All tires are not created equal. There are tires that can handle offroad conditions and those that can't. The Discoverer A/T 3 Sport from Cooper, EfficientGrip SUV tire from Goodyear, LTX A/T 2 tire from Michelin and numerous tires from other leading brands are ideal for offroad trips.
5. Get your tire treads checked by an experienced tire technician like the mechanics at Orange Auto. If your treads are clogged and are not in good shape, you could lose traction.
6.To help tires get a better grip on muddy or sandy terrain and give them good traction, it is advisable to deflate them to a small extent, but this should be done after checking with a knowledgeable person who knows all there is to know about tire pressure, tire traction and tire safety.
7. Make sure that you are always conscious about speed and distance. Braking or accelerating too fast or too frequently can get you into a situation that you just can't get out of. You may get stuck or lose your grip.
8.When it comes to steep slopes, drive either straight up or straight down as driving horizontally increases chances for loss of control.
9. After your trip is over, clear all debris from the tires and the underbody of the vehicle. If the vehicle is used with debris sticking to it, it could end up causing a fire or breakdown.
10. Before you resume highway driving, always ensure that your tires have been reinflated to optimum tire pressure.