A damaged wheel will gravely affect your and your passengers' safety on the road. This is why it is important to take your car immediately to a reliable garage for a wheel and rim repair and refurbishment service when you notice that there is something wrong with it. However, the tricky part is that though there are no visible scratches, the wheels might have some problems that only expert technicians can spot and solve. If you are in Dubai, it is important to know the answer to the question 'where is the best place for a wheel rim repair and refurbishment'?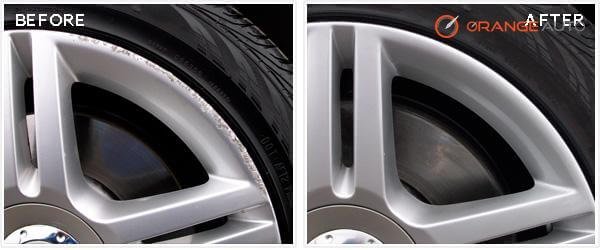 Based in Al Quoz, Orange Auto is a reliable and reputable auto care center that aims to provide excellent wheel and rim repair and refurbishment service. Using state-of-the-art tools, equipment, and technologies, our experienced technicians can transform scruffy, dented wheels into brand new-looking wheels through blasting, refurbishing, repainting and lacquering. We also deal with kerb damage, gouges, scrapes, and discoloration as well as perform an array of other repair and restoration services.
A number of processes are entailed in wheel refurbishment. The wet spray combination and powder coating process is used for total color changes or to restore the wheel's original finish when the damage is severe or the damage covers several areas of the wheel for a cosmetic repair to be sufficient. It also entails refurbishment of the entire wheel, which can only be attained with specialist oven and equipment to eliminate old coatings, repair damage and corrosion, and re-apply a new finish. This process is proven to give an excellent and durable finish.
The refurbishment of a diamond cut wheel is the same as the wet spray combination and powder coating process, but with the addition of the diamond cut lathe which eliminates a micro section of the metal to deliver the classic diamond cut wheel finish.
SMART or cosmetic repair is another alloy wheel refurbishment process. It is a localized repair to a small area of damage to the wheel finish, which is color matched into the existing finish.
A dented, shabby-looking wheel not only impacts how the exterior of your car looks but also how it performs. This is why it is important to make sure that they are in good condition. Ignoring any damage on it will only make things worse as it can lead to repeated repairs and eventually, huge losses down the road.