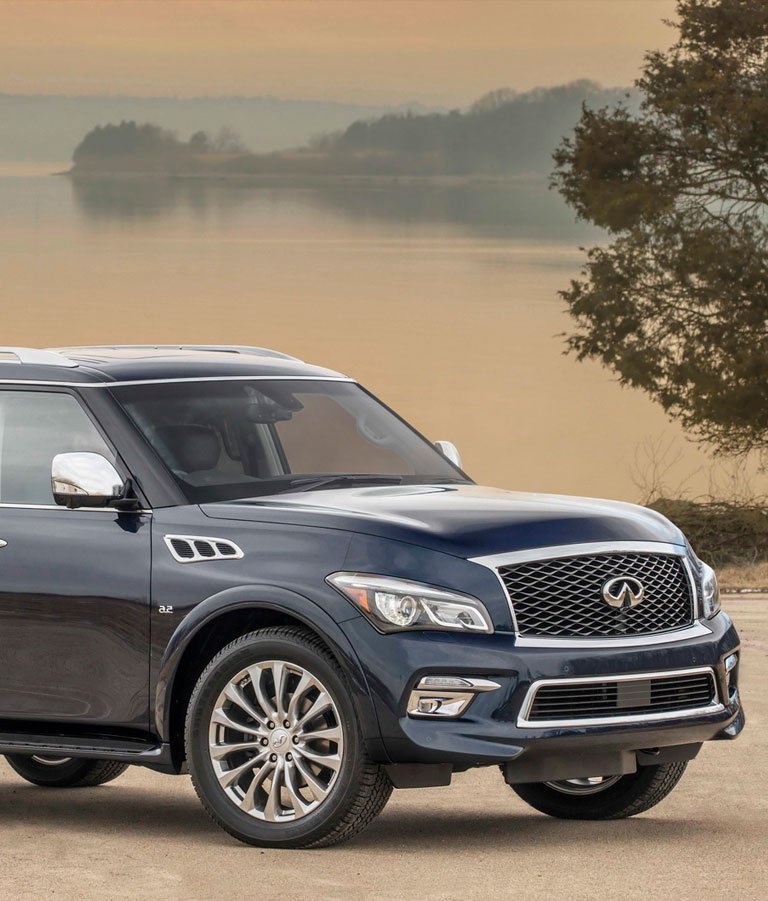 Get a Quick Quote

Free Infiniti Inspection / Health Checkup with every Service
Infiniti Repair Services
Infiniti cars known as the higher subsequent brand of Nissan, are known for its elegance, performance, beauty and high standards in Dubai UAE. Infinity provides many ranges of vehicles from sedans, Coupe's to cross overs and high end luxury SUV's such as the QX80. Infinity even has the Engineering academy which promotes new technology towards new innovations and especially its competiveness in the F1. Many of Dubai's fleet run on Infiniti vehicles due to their five star capability in delivering, especially with their low energy consumption. With such an elegance vehicle in Dubai you would surely need a boutique five star garage to have your infiniti car service done in Dubai that ensures the quality and reliability that you would need at competitive prices.
Infiniti Maintenance Services
Orange Auto Dubai has well trained staff that can perform minor and major services for your Infiniti in no time. We perform Infiniti car service with a twenty point checkup to ensure that you are running smoothly on the road. Our dedicated infiniti service center is catered to give you specialized service by providing you with genuine parts, competitive prices at a fraction of the time with no appointment. You can have your infiniti car service in Dubai done in the same day. We have a specialized seating area especially for women catered to give you comfort while you wait. Orange Auto Dubai provides high quality worksmanship at a fraction of the price of what the dealership would charge you to give you a piece of mind without compromising on the quality. We work with all the majour high end brands such as Mobil 1, bosch, 3M, meguiars, icer, Pirelli, bridgestone, yokohama, Valeo, Hengst etc… to ensure that you get to your destination on time.
Best Infiniti Garage
Orange Auto dubai is a 5 start boutique garage offering all round services including majour, minor, tyres, batteries , oil change, 3m tinting, paint protection, detailing, polishing car wash, ceramic paint protection, mechanical, electrical etc… services.
Infiniti Vehicle Maintenance
INFINITI Vehicle maintenance scheduled in every 8000 KMS
SERVICE INTERVALS IN KILOMETERS
8,000  kms Standard Maintenance Service
16,000 kms Standard Maintenance Service
24,000 kms Standard Maintenance Service with additional items
48,000 kms Major Maintenance Service with additional items
72,000 kms Standard Maintenance Service with additional items
96,000 kms Major Maintenance Service with additional items
STANDARD OPERATIONS
MINOR LUBE SERVICE
ENGINE OIL
OIL FILTER
VISUAL INSPECTON
TIRE ROTATION
CAR WASH
COMPUTER RESET
MAJOR SERVICE
ENGINE OIL
OIL FILTER
VISUAL INSPECTON
CAR WASH
COMPUTER RESET
LUBRICATE PROPELLER SHAFT WITH GREASE ( QX80 4WD)
Replace in-cabin micro filter 24K
Replace engine air filter 30K
Replace CVT Fluid (QX60 Hybrid Electronic Vehicle (HEV) 30K
Replace brake fluid 60K
Replace spark plugs (only Q60 IPL) 60K
OPTIONAL MAINTANANCE UPGRADE – every 48K service
❑ Lubricate all locks/hinges
❑ Replace automatic transmission fluid1
❑ Replace differential oil
❑ Replace engine drive belts
❑ Replace manual transmission oil
❑ Replace radiator cap
❑ Replace transfer case oil
❑ Replace radiator cap
❑ Replace transfer case oil
❑ Inspect the following at every service intervals
❑ Automatic transmission fluid2
❑ Brake lines & cables
❑ Brake calipers, pads, rotors
❑ Brake light & cruise control switches3
❑ CVT fluid
❑ Differential oil
❑ Drive shaft boots (4WD/AWD)
❑ Manual transmission oil
❑ Propeller shaft (4WD/AWD/RWD)
❑ Transfer case oil (4WD/AWD)
❑ Axle & suspension parts
❑ Exhaust system
❑ Front suspension ball joints
❑ Steering gear and linkage
❑ Steering linkage ball joints
❑ Fuel tank vapor vent system hoses
❑ Engine drive belts
❑ Front suspension ball joints
❑ Fuel lines/connections
❑ Fuel tank vapor vent system hoses
❑ Steering gear and linkage
❑ Steering linkage ball joints