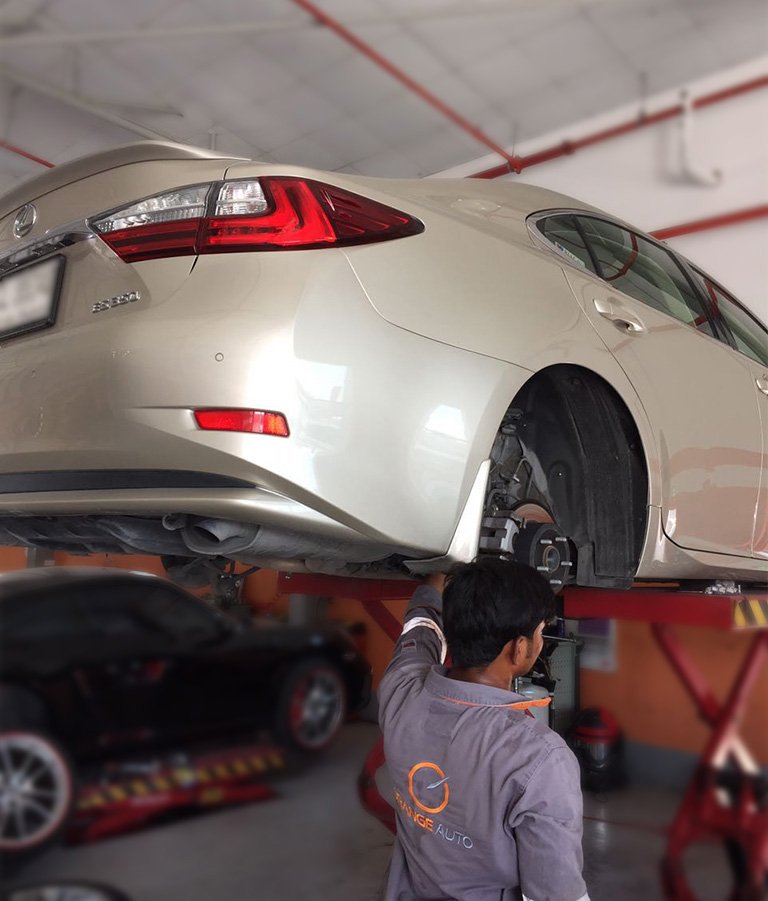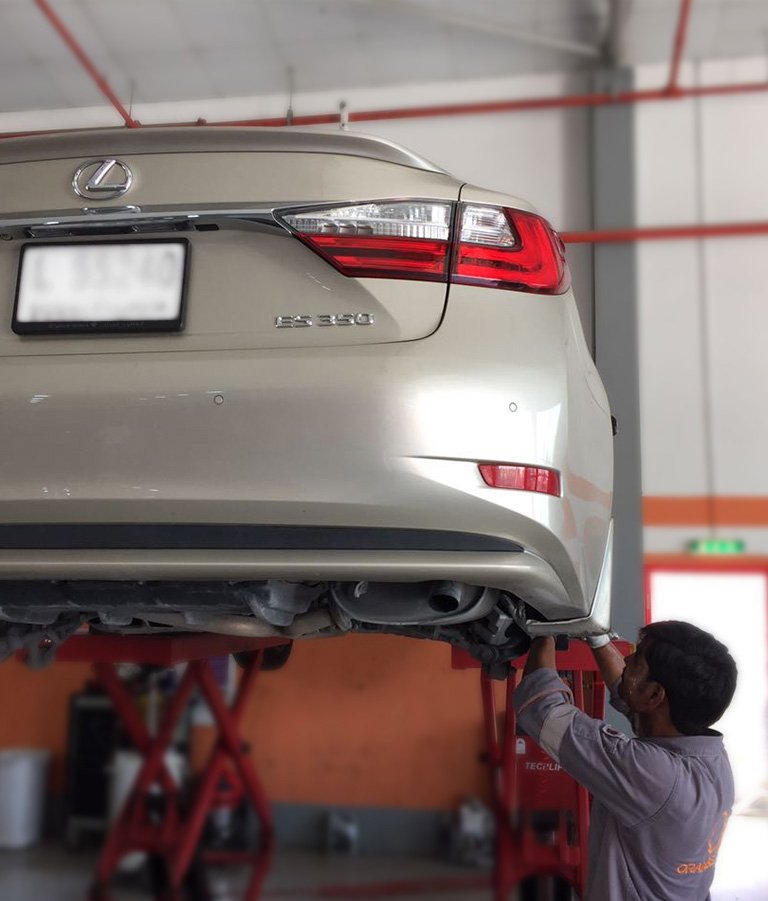 Get a Quick Quote

Free Lexus Inspection / Health Checkup with every Service
Lexus Repair Services
A Lexus vehicle symbolizes quiet, understated luxury. Lexus is the luxury division of popular car manufacturer, Toyota. Lexus is one of the leading brands of premium cars in the world. Ranging from the Lexus LS which made its debut in 1989 to the sporty RCF and its supercar, the LFA, Lexus vehicles are considered to be highly reliable. In fact, Lexus is one brand for which every one of its models was evaluated as above average in Consumer Reports' reliability survey. Ranging from luxury sedans to sporty SUVs, Lexus has a wide range of models that customers can choose based on their preferences and lifestyle. Like every other vehicle, Lexus vehicles too need preventive maintenance and regular service checks to ensure that they are in the best possible condition. Engine lubrication, fluid top-ups, replacement of coolants and filters, brake pad repair and replacement are considered to be part of normal maintenance requirements and are not covered by warranties. In order to get good Lexus service in Dubai, you need a trustworthy partner like Orange Auto in Al Quoz on your side.
Lexus Maintenance Services
The brand's first tagline, "The relentless pursuit of perfection" sums up the Lexus philosophy and its current tagline "Experience Amazing" refers to the driving experience that every Lexus owner would have. We can help you have the experience Lexus wants every motorist to have with our experienced technicians and state-of-the art equipment. Whether you are looking for car customization with accessories and TirePenz, oil change, tire change and tire rotation, a/c services, car detailing or 3M tinting to beat the heat, we have got you covered when it comes to Lexus service in Dubai.
Best Lexus Garage
If it is a long time since you have brought your Lexus in for a routine service, bring your vehicle to Orange Auto to get assistance and advice from our trained technicians. Give your vehicle the loving care it needs with technicians who understand your vehicle's needs inside and out. When it comes to Lexus service in Dubai, you can truly depend on Orange Auto to provide the best care for your Lexus. We work with the best suppliers like 3M to ensure that you get the best in the industry.
Lexus Minor Service
15,000 kms Standard Lexus Maintenance Service
30,000 kms Lexus Maintenance Service with additional items
45,000 kms Lexus Standard Maintenance Service
Lexus Lube Service
Lexus Engine Oil, Oil Filter, All Fluid Top-Up, Visual Inspection, Tire Rotation, Car Wash, Reset Service Interval in Display.
Lexus Services
Lexus battery check
Lexus Engine Oil
Lexus Oil Filter
Lexus Tire Rotation (If Size Same for All Four Wheels)
Lexus Visual Inspection
Lexus Car Wash
Lexus Computer Reset Maintenance Interval
Lexus Major Service
Lexus 60,000 Kms Major Maintenance Service with additional items
Lexus 120,000 Kms Major Maintenance Service with additional items
Lexus Lube Service
Lexus Engine Oil, Oil Filter, All Fluid Top-Up, Visual Inspection, Tire Rotation, Car Wash, Reset Service Interval in Display.
Lexus Services
All Standard Services +
Lexus Inspect and Adjust All Fluid Levels
Lexus Replace Cabin Air Filter
Lexus Inspect Engine Air Filter
Lexus Replace Smart Key Battery
Lexus Inspect Axle Shaft Boots
Lexus Inspect Ball Joints and Dust Covers
Lexus Inspect Brake Lines and Hoses
Lexus Top Up Engine Coolant
Lexus Inspect Exhaust Pipes and Mountings
Lexus Inspect Rack-And-Pinion Assembly
Lexus Inspect Steering Linkage and Boots
Lexus Inspect Wiper Blades
Lexus Tighten Nuts and Bolts on Chassis
Lexus Inspect Wiper Blades
Lexus Brake Rotor Thickness and Run Out
Lexus Fuel Lines and Connections, Fuel Tank Band and Fuel Tank Vapor Vent System Hoses
Lexus Fuel Tank Cap Gasket
Lexus Transmission for Signs of Leakage
Lexus Inspect Ball Joints and Dust Covers
Lexus Replace Automatic Transmission Fluid – 60000 Kms
Lexus Inspect Drive Belt
Lexus Replace Cabin Air Filter At 120k
Lexus Replace Brake Fluid At 120k
Lexus Replace Engine Air Filter At 120k
Lexus Replace Smart Key Battery At 120k
Lexus Visually Inspect Brake Pads, Calipers and Rotors
Lexus Replace Spark Plugs At 120k
Lexus FAQs
Why does my Lexus vibrate when I break?

A few issues could be the reason, including problems with the brake disks or brake pads. If this is the case, it is easy resolvable and an inexpensive problem to fix. It is important for a professional to also check for signs of tire misalignment or problems with your suspension. It is important to do a full comprehensive check to avoid further problems.

How often should the brake pads on my Lexus be changed?

The condition of your vehicles brake pads is of the utmost importance and should be treated as such. You could run the risk of damaging your brake disks if you do not maintain the pads well and this could be very costly to you.

Why is the check engine light turned on in my Lexus?

Like other warning signs that your car may have, the check engine light turning on can also be the result of a number of issues. A computer can be connected to your vehicle to read the error codes which can be an accurate way of understanding the issue. Alternatively, the light could merely be something as small as a faulty sensor. As always, the best way to prevent unnecessary costs is to have a professional regularly service your Lexus vehicle.

Why is my Lexus vehicle overheating?

A professional should check your car to determine the exact cause of the overheating. It may be for several reasons including a blocked hose, a faulty water pump, and /or a leak in the cooling system or in the radiator.

My Lexus is misfiring, why?

Most commonly misfiring could be a result of a faulty spark plug(s) and ignition coil(s). If it is in fact due to a bad spark plug this will reduce the efficiency of your vehicles fuel consumption and you should be seeing a rise in cost of your fuel.

Why is the low engine oil on?

The first thing that should be checked is whether or not you have oil leak which can be easy seen in your parking spot. If there is no sign of a leak, then you may be burning oil internally. A profession will recommend a car oil that is best suitable for your car to eliminate this problem in the future.

Why is my Lexus air conditioner not cooling properly and/or blowing out hot air?

Have a professional check for the following issues, including an air conditioning gas leak, a problem with the condenser, evaporator or engine cooling fan. To avoid any major further issues and prevent unnecessary costs, it is best to investigate this problem as soon as possible.

Why is it important to have the oil changed on my Lexus on time?

We recommend that oil changes and full services completed on time so you achieve the best performance from your Lexus. We even suggest that oil changes be done not only on time but before it is due by approximately 1000 KM in order to keep your car in top condition.

Why does my Lexus take time to start?

A weak battery could be the main cause of a delay in start. Since car batteries typically have a lifespan of 2 – 3 years, it's in your best interest to have this checked regularly at every service to avoid major issues.