One of the things that make Dubai unique is its extreme weather condition and environment that is harsher than anywhere else in the globe. Insects, bird droppings, sand storms and the scorching heat of the sun can take a huge toll on your car's paintwork, making it look older than it really is and reducing its overall value. Have you ever wondered "how much does paint protection cost in Dubai?"? This article aims to shed some light on this.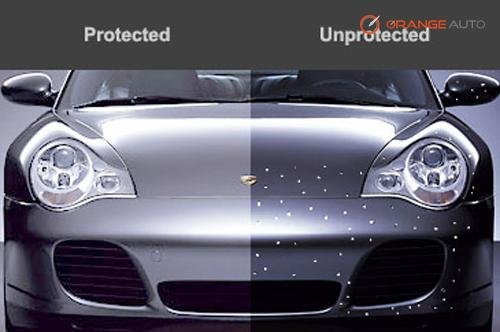 In this emirate, the average cost to have a car repainted ranges from AED 5,500 to AED 18,000. Thus, opting for car paint protection is a wiser decision. The cost of this car service, however, varies from one garage to another.
In Orange Auto, a professional auto service center in Al Quoz, the cost of paint protection service ranges from AED 3750 to AED 14,000 for sedans and SUVs. Those who own a small sedan can opt for the full hood plus standard service for AED 3750 or the full car service for 8,000. Meanwhile, for large sedans, full hood plus standard costs AED 4250 and full car service costs AED 9,000.
Owners of medium SUV who want a full hood plus standard service will have to spend AED 4250 while those who opt for full car service will have to pay AED 12,000. For a large SUV, the price of a full hood plus standard service is AED 5,000 while a full car service costs AED 14,000.
To ensure the premium quality of paint protection on your car, Orange Auto uses only top quality 3M film. It creates an invisible layer that offers total protection against damage to keep the car looking good as new longer. Featuring a durable water-based formula, this product is eco-friendly and safeguards the car from fading, oxidation, weather and chips to prolong its life.
Your car is one of your biggest investments. Prevent expensive repainting service by choosing the right paint protection service for your car now!