How much does car window tinting cost in Dubai? Where can I get cheap car tinting in Dubai? Is it high quality? does it have a warranty? this is what crosses every person's mind when it comes to their car. The extremely hot weather condition in Dubai makes driving a challenge for car owners as it bakes leather seats, makes plastic faded and brittle, and creates discomfort to occupants. This is why window tints are an integral part of motoring not just in the emirate, but in the entire UAE.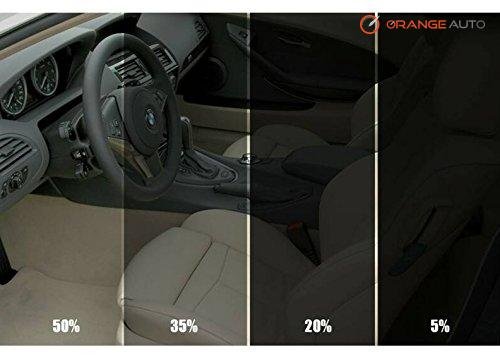 This question does not have a definite answer as car tinting costs vary depending on the tinting brand used as well as from one auto service center to another.
3M is by far one of the most renowned and trusted car tinting brands worldwide due to its top-of-the-range products and proven quality. Its hallmark is protecting car interiors and enhancing the comfort of people who occupy them. So, whether you are searching for cutting-edge heat-rejection technology in a clear film or just want to minimize the damaging effects of UV rays, 3M automotive window films are a suitable choice.
Orange Auto, a reliable auto service center in Al Quoz and Nad Al Hammar, is the authorized dealer of 3M automotive products. We offer car tinting services for sedans and SUVs, and these services are categorized into mid-range, high-range, and lower range. For the midrange, we use 3M Color Stable Automotive Films offering a 5-year warranty. Featuring the same warranty, Crystalline Automotive Films are used in the high-end range. Lastly, for the lower range, our expert technicians use FX Automotive Films offered with a 2-year warranty.
The car tinting cost for small sedans in the midrange category (CS, Colour stable) is AED 850, while AED 950 for large sedans. For tinting medium SUVs, car owners will have to spend AED 1000, while large SUV owners will have to pay AED 1200.
Car owners who want to avail of car tinting service in the high-end range(CR, Crystalline)  category have to spend around AED 1600 for small sedans and AED 1800 for large sedans. Meanwhile, tinting the windows of a medium SUV costs AED 1,800 while servicing a large SUV costs AED 2,000.
For the entry Level (FX series) category, the following are the list of prices: a small sedan (AED 600), large sedan (AED 750), medium SUV (AED 800), and large SUV (AED 900).
These car tinting prices are for the side and back only. If the front of the vehicle also has to be tinted, it would cost AED 850 for a small sedan, AED 900 for a large sedan and a medium SUV, and AED 950 for a large SUV.
Don't compromise the quality of your car interiors as well as the comfort and safety of occupants. Why don't you choose the right car tinting service for your car now?