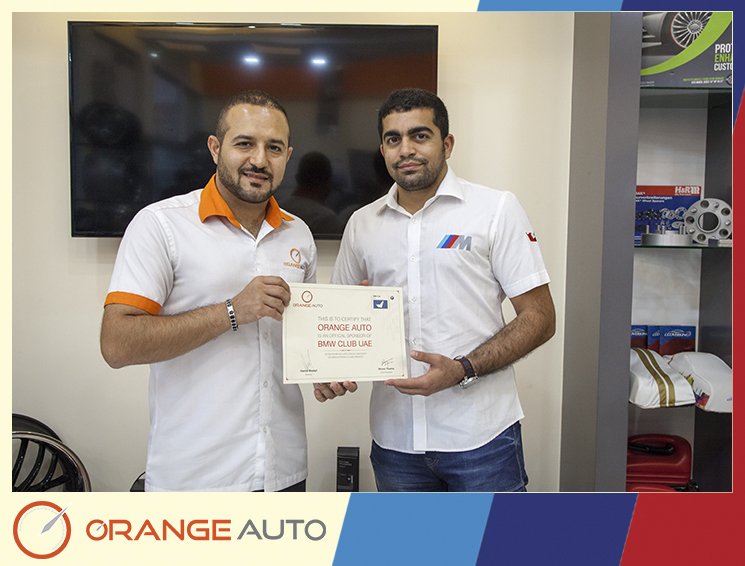 Orange Auto recently hosted a BMW Club Meet for members of BMW Club UAE. During the meet, representatives from Continental Tires, 3M and Mobil1 gave short presentations to educate club members on different aspects of car care and safety on the road. While the presentation on tires covered tips to choose the right type of tires and stressed the importance of rolling resistance, tire pressure checks and checking tire tread wear, the other two presentations emphasized the importance of maintaining the exterior and interiors in the best possible condition, changing the oil at regular intervals, the merits of synthetic lubricants and the finer aspects of car detailing and polishing.
After the presentations on road safety and proper vehicle and tire use, raffle draws were held in which participants won prizes like free oil change, 3 M tinting and wheel alignment by expert tire technicians at Orange Auto. The meet also served as an event where the team at Orange Auto got a chance for close interaction and individual relationship building with members of BMW Club UAE.
The event culminated in a signing ceremony in which Hamid Moaref, Director, Orange Auto and Bruno Touma, President of BMW Club UAE officially signed an agreement. The agreement formalizes Orange Auto's collaboration with the club as one of the official sponsors of BMW Club UAE.
Commenting on the event, Hamid Moaref, the Director of Orange Auto said, "The members of the BMW Club UAE are true auto enthusiasts and it was a great honor for us to host the BMW Club meet. We look forward to hosting many such events in the future."
Orange Auto is a full service garage located in Al Quoz that is staffed by trained, highly experienced technicians and offers a wide range of automotive repair and maintenance services including 3 M tinting, oil change, wheel alignment, detailing and battery change.