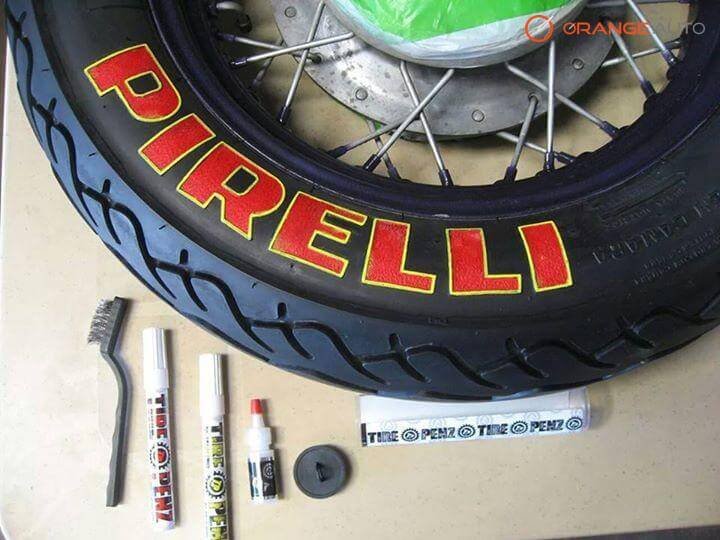 All tires are round and black. Painting tires would definitely make your vehicle stand out in a crowd. When it comes to motorcyclists, painting your tires is not just a style statement, but it also contributes to your safety on the road by making you more visible. Applying paint to rubber, though, is not an easy task and this is where painting your tires with the Tire Penz kit can make a difference.
The #TirePenz kit that we now stock at Orange Auto in our accessories retail store is more than equal to the task. True to its name, the kit has the perfect pens for painting tires, whether you need them for painting motorcycle tires, the tires of your SUV or even those of your truck or bus.
Painting your tires with Tire Penz is as easy as ABC. The first step is to clear off all dirt or debris from your tires. Brand new tires have a coating that needs to be removed. A wire brush or scour pad would be perfect for the task and you can finish off by using rubbing alcohol to ensure the surface is ready.
With Tire Penz kit, you will not need to apply a base coat of primer before you start painting. All you have to do is  remove the tin of Tire Penz Paint Pen from the packaging, shake it well, remove the cap and depress the pen tip against a flat surface like cardboard to get the paint flowing. Two sets of pen tips are included with every Tire Penz kit.
The paint from the Tire Penz has been tested in a variety of challenging situations and is durable enough to withstand the toughest weather. Available in a wide range of colors including cobalt blue, poppin' pink, vivid yellow and fire red, the kit allows you to give free rein to your creativity and paint your tires in the design of your choice.
Paint in thin, even strokes to get the best results. Tire tread grooves can also be painted by applying a thin coat of paint to the bottom of the tread groove. It is not necessary to paint the entire tread groove. Once the paint dries in 8-10 hours, you are all set to hit the road.